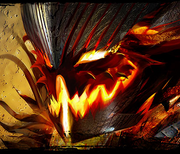 The Mad King's Realm
was the name of the
Kaelicious
social group when
Vengeancekael
created it back in
November
2012
. Thus, the
Halloween
-associated
holiday event
of that month, which was also the first overall event in the group's history, is often referred to by the same name. Vengeancekael created several
discussion threads
, meant to function as forums for a number of Halloween-related
contests
. Unlike official
Hive Workshop
contests, Vengeancekael hosted these ones in a much more loose way, and allowed the members of the social group to talk all the off-topic they wanted.
Many liked the idea of acting like humble servants of the great Mad King, including members like Paillan, David, Gen Bloodhorn and Da Fist, which added to the entertainment found in the conversations between members while the contests progressed. Majority of those who pretended to be servants of the Mad King also participated in the Writing Contest - and thus actual stories were finally connected to the event of the group, and a few members even created their own personal main characters during this month, without knowing what effect that would have on the future of the group...
The event ended at the end of the month, and was succeeded on December 1st by the "Santa's Workshop"-event.
The Hollideus project's novel series' first novel, Hollideus I: The Horrors of Halloween, is based on the roleplay that took place during The Mad King's Realm.
Related Social Group Discussions Edit
Roleplaying History Edit
Blabla... EDIT ME!! an early idea of the Kaelicious-world came to life, since the realm of the evil Mad King was defined as Hell, a home for all his demon servants, with the Earth's Core being in its center. The human country was also mentioned to a lesser degree, and the tradition for interaction between humanity and demonkind each year around the Halloween holiday was shown for the first time. This enabled the roleplayers to create their personal unique Main Characters to the storyline, adding characters like Paillan, David and the Fist.
New pictures and Members Edit
Many new members joined during this month, and many of those members helped start up the actual roleplay that would later become known as the Kaelicious universe. All members who posted during The Mad King's Realm includes: Amargaard, APproject, BallisticTerrain, bisnar13, bowser499, Da Fist, Darkdread, David, don_svetlio, Freyleyes, Gen Bloodhorn, GreeN!X, HammerFist132, HOooDy, kari0003, Killd0zer, Maestros, NagaRulez, Paillan, PROXY, Pr0blemBro, Sin'dorei300, Sky Green, sonofjay, The Mad King, Vengeancekael, -Grendel and ~DARK~.